June 1, 2020
Nose job surgery- Reslts , Cost, Recovery and Nose Reduction

Nose job surgery is very common these days. Both men and women are coming to cosmetic surgery center for the shaping their nose or they want some changes in their nose.
The nose surgery is done to make certain changes in the nose shape. These changes are done by reshaping the cartilage, the bone and the skin of the nose.
Those people who are coming for reshaping their nose, they have a lot of queries. Following are certain important queries asked –
Does the nose job last forever?
Generally nose job is done by surgery and it is done to reshape the nose. It is done by reshaping the cartilages and the bone and the skin of your nose. Once these structures are reshaped in noses, result of nose job will persist for ever.
You cannot reverse back the changes which have been made by nose job.
So the answer is yes. Whatever changes you get by nose job treatment, they will persist.
How can I make my big nose is smaller naturally?
Main structures of nose are cartilage, bone and skin. Once you have any bigger structure in your nose or in body you cannot reduce it naturally. Although you can increase fat in your body and if you want, you can reduce it by weight reduction.
But in nose, the size of bone and cartilages is genetically determined. When it is larger in size and it makes nose bigger. If you want to reduce the size of your nose it can only be done by surgery only.
So there is no such method which you call as natural method to reduce your nose size.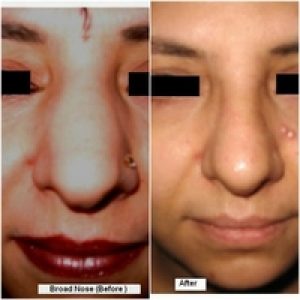 In the nose surgery, if the bone changes have been done, then it will take at least three weeks to heal.
Skin incisions usually heal within 7 to 10 days. All the stitches are removed usually up to five days or six days
So depending upon the nose structure modified in your nose, healing occurs. However we can, broadly say that it may take 1-3 weeks.
You can go to your office after one week.
4. What is the nose job surgery cost in India?
In India, nose job surgery is competitively cheaper in comparison to the European countries or America or England. The cost of surgery as reported by the American association of plastic surgeon is average 5,000 us dollar. In America it includes only the surgeon fee, the hospital fee and anaesthtist fee and other facility fee are extra.
But in India, nose job surgeries comparatively very cheaper. It usually costs between 70,000 to 1.5 lakh Indian rupees.
Cost depends upon that treatment you want and experience of surgeon and type of hospital. It includes surgeon fee and OT charges
So in India it is very cheaper. It should be done in a good hospital by an experienced plastic surgeon
If you have any other query or want to ask about any other facial plastic surgery treatment you may write us at info@southdelhicosmeticclinic.net .