What is the
Meaning of Rhinoplasty? 
Rhinoplasty Surgery in Delhi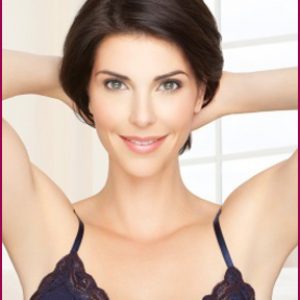 A Rhinoplasty surgery is also known as Nose reshaping or Nose Rhinoplasty Surgery
Your nose is a prominent part of the face and it defines your facial features. If the nose is in proportion to facial features it gives an aesthetically pleasing look to the whole face.
Many people are self-conscious about their abnormal nose shape because it attracts unwanted comments from friends and family. Both men and women want nose rhinoplasty surgery in Delhi. They want to reshape their nose just like that of their favorite celebrity.
 Sometimes nose shape gets distorted after injury or roadside accident.
Cosmetic Rhinoplasty Surgery in Delhi is a real art and requires a high level of skill from your Cosmetic Surgeon. It can change the prominence, size, and/or shape of your nose and produce an aesthetically appealing nose which is in proportionate to your facial features.
Best age for rhinoplasty-
The nose keeps growing until the age of 16, so Nose Surgery in South Delhi Cosmetic Clinic is usually performed after 18years of age. Reconstructive rhinoplasty for a broken nose can be performed at any age. Nose reshaping for cleft lip and nose deformity is performed after 14 years of age. septoplasty is advised after 18 years of age.
Assuming you are in good health, there is no upper age limit for having your nose reshaped.
What are the different types of nose shaping plastic surgeries?
Rhinoplasty – Addresses nasal bridge, nose tip, and nostrils to increase or decrease the size and change the shape. It is a very common cosmetic procedure both in males and females.
Septorhinoplasty or Rhinoplasty for broken or deviated nasal septum–As above, includes alteration to the internal septum (cartilaginous midline structure). It is performed to improve breathing difficulties and deviation of the nose.
Nose tip surgery– Involve correction of nasal tip and nostril adjustment.
Various cosmetic imperfections which can be addressed with Rhinoplasty are:
A nose that is either too long or too short

Wide or broad/narrow nose bridge

A nose that is crooked – Rhinoplasty is done to straighten the nose
A nose with a bulbous tip –  Nose job for bulbous tip enhance the beauty of the nose tip.
Nostrils that are too big or too visible from the front
A nose with a hooked tip

Projected, prominent or big nose

Depressed, flat, and short nose
Deviated or broken nose bridge
Crooked Nose.
How is Nose Surgery done for Perfect Nose Shape in South Delhi Cosmetic Clinic?
Rhinoplasty is performed by two techniques:-
Closed Rhinoplasty Surgery for Perfect Nose Shape in Delhi
Only a small cut is made inside your nose to hide the scar.
The nose cartilage and bone will be removed and/or reworked in order to modify the nose profile.
Nose-tip job is difficult by this method
A nose job incision is extended to the columella (bridge of tissue between your nostrils) just above your upper lip. It is not visible from frontal view.
Your surgeon will decide to use this procedure to allow better access to your nose.
By this method, your plastic surgeon can modify all the structures in a better way.
Anesthesia for Rhinoplasty Treatment
Depending upon the extent of work, it is carried out under local and general anesthesia. Usually, an overnight hospital stay is preferred but also done as a daycare procedure.
Other Facial surgery which can be done with rhinoplasty
 Rhinoplasty Surgery in Delhi is sometimes performed in conjunction with a facelift or other Cosmetic procedures like Chin surgery or genioplasty and fat grafting.
What are the risk or side effects of Nose Job?
Rhinoplasty risks after the operation are swelling, bruises, discoloration, nasal Discharge, and pain.
Most of these complications are temporary and disappear within a few days. Major complications are unsatisfactory results if not performed by a qualified Rhinoplasty Surgeon.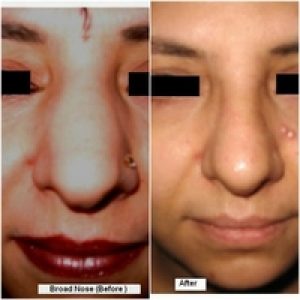 Most people want to know what is non-surgical rhinoplasty. It is also known as a non-surgical nose job.
Non-surgical rhinoplasty is performed by using dermal fillers. This is a safe procedure. Dermal fillers are given through injection by a plastic surgeon. Non-surgical nose job corrects small nose, wide nose, nose tip, Crooked nose, and depressed nose.
Non-surgical nose shaping is a safe procedure in India. If a non-surgical rhinoplasty procedure goes wrong it can be reversed back easily. The results of this procedure are not permanent.
The cost of a Non-Surgical Nose Job in Delhi India is ver affordable than other countries. It is variable and depends upon the volume of dermal fillers used.
In the recovery period after rhinoplasty, you will have a pack inside the nose and dressing will be applied over the nose. You may feel blockage of the nose because of the pack which will be removed after 48 hours.
After Rhinoplasty Surgery in South Delhi Cosmetic Clinic, initially, we allow a soft diet and after 24 hours you can take a normal diet.
The initial pain you experience is not too much and can be very well controlled by pain killer or analgesics. You may experience bruising and swelling for 7-10 days. But healing continues for a few weeks.
You may require off from your job for 1 week's time.
Best Rhinoplasty Surgeon in Delhi
During the consultation, our plastic surgeon at South Delhi Cosmetic Clinic, Delhi will examine and evaluate your nose and complete face. We discuss with you regarding your requirement, expectation, and advise you which type of nose correction surgery you require to achieve the look you want.
How Much Is Cost of Rhinoplasty Surgery In Delhi India or Nose Job Cost India?
The cost of rhinoplasty is variable. It depends upon
Type of Surgery- Tip Surgery, Complete nose job or septorhinoplasty

Whether it requires an implant or cartilage bone graft

Type of anesthesia – General or Local anesthesia

Facilities of hospital 

Multiple other factors.
The price of rhinoplasty surgery also depends upon the experience of cosmetic surgeon.
For more Before and After images of Rhinoplasty  Click Here
FAQ:
Q. How can I get a nose job without Too much change in my Face?
A.  Usually, few small changes in the nose during rhinoplasty make the nose aesthetically perfect but it does change facial features drastically. If somebody demands too much change in nose shape or if surgical planning is not good or rhinoplasty goes wrong then one can notice too much change in facial features. this is known as a surgical nose.
Q. Can Rhinoplasty go wrong?
A. Yes of course. Rhinoplasty goes wrong only when it is done by a doctor who is not experienced or when it is performed for a deformity by the wrong method.
Q. Do nose jobs last forever?
A. Nose job results by surgery are long-lasting and it can not be reversed back on its own.
Are You looking for the best rhinoplasty doctors in India? You may visit South Delhi Cosmetic Clinic Delhi to consult with Dr S.K.Chawla.
For Perfect Nose Shape in Delhi at the affordable cost of Rhinoplasty in Delhi, at South Delhi Cosmetic Clinic, which is equipped with state of the art facilities and adept Cosmetic Surgeon in Delhi– Dr. Surendra Chawla. Book an appointment now! Contact us at 9811827580.
Address –
D-738, Basement, Near Market No-2
C R Park
New Delhi 110019
Ph  011-26276580, 9811827580
Call Now
9811827580, 01126276580